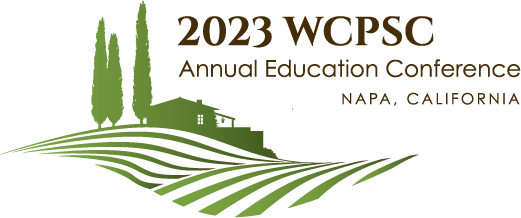 On behalf of the Western Conference of Public Service Commissioners (WCPSC), we would like to thank you for accepting the role to moderate a session at our 2023 WCPSC Annual Education Conference. Your expertise and industry insight will guide the direction of the session and facilitate a dynamic conversation among the group participants.
Tasks and Resources
Now
Review the suggested list of speakers and contact each speaker.
Review the suggested panel description narrative emailed to you.
Pre-written speaker invitation email template available here.
April 10
April 12
April 29
Submit speaker names, titles, bios and photos.  Bio is 150 words maximum.
High-resolution headshots only in jpg or png format, no smaller than 600 x 750 pixels.
Submit to Dropbox folder
May 5
Send in PowerPoint presentations.
PowerPoint slides must be wide screen 16:9 format. Submit to Dropbox folder
May 12
Deadline to register – discounted room to the Silverado Resort and Spa or Hampton Suites and Inn provided after registration.
Week of May 15
Conduct dry run of panel with speakers
Confirm order of speakers, questions to be asked, and the time allotted for each segment.
May 21-24
Conference
Audio/visual and seating will be organized for your session.
May 25-June 2
Conference Follow-up
Speaker "thank you" note templates will be provided.
Contact Jack Chang, Advisor to California Public Utilities Commissioner Genevieve Shiroma, at jack.chang@cpuc.ca.gov with any questions.