Navigation
See Registration page for fees, types, deadlines, substitutions and cancellations.
COVID-19 Protocols
As of March 26, 2022, domestic travelers to Hawaii will no longer be required to submit proof of vaccination or a pre-travel test to be exempt from a quarantine period. However, passengers arriving to Hawaii on direct international flights must still adhere to federal US entry requirements, which include showing proof of an up-to-date vaccination document and negative pre-travel COVID-19 test result taken within one day of travel. COVID-19 policies and protocols are subject to change without notice, so please confirm before you travel.
The Alohilani Resort's COVID19 protocols on posted on their website.
Mask Mandate
Although the State of Hawaii discontinued the indoor masking requirement, business can and may continue to require individuals to wear a mask at their facilities. If you are attending the the luau, please bring a mask. The luau venue requires you to wear a mask to go through the self-serve buffet line, but does not require it for other parts of the program and dinner.
COVID19 Testing
V2 Safe Solutions, a COVID-19 concierge travel testing site is conveniently located at the Alohilani Resort's 2nd floor. Hours are 9am-3pm Monday through Friday and 9am-12pm Saturday and Sunday. V2 solutions is extending their "friends and family" discount to us. Rapid Antigens are available for $50 (regularly $75) and PCRs with results in an average of 30 minutes are $135 (regularly $150).  To get this pricing, appointments are required and can be set up through travel@v2safesolutions.com or by calling 888-808-9909.
Hotel
*IMPORTANT UPDATE FOR BOOKINGS MADE ON OR BEFORE APRIL 1
Due to a glitch in the Alohilani hotel conference rate code, some guests may have been charged the regular hotel rate instead of the conference rate, or experienced an error message when trying to book. The glitch in the rate code was fixed on April 1 and should not affect reservations made after this this date, but for those who booked on or before April 1, check your Alohiliani confirmation to ensure you were charged the correct rate. If you did not receive the discounted conference rate ($199 for commissioners and their staff and $279 for all other attendees) for bookings between May 30-June 14, contact Alohilani Resort at reservations@alohilaniresort.com for an adjustment. If you are not a commissioner or commission staff and booked at the $199 commissioner rate instead of the $279 conference attendee rate, we would appreciate you contacting Alohilani to modify your reservation so that our WCPSC commissioners may receive our limited subsidy.
The 2022 WCPSC Annual Education Conference will be held at the award-winning Alohilani Resort Waikiki Beach. This modern oasis is Hawaii's first carbon-neutral hotel and pays homage to Hawaii's rich cultural heritage.
The daily discounted conference rate is $199/night for commissioners and their staff and $279/night for all others.
If you are a commissioner or commission staff and are having trouble booking at the $199 rate, please contact reservations@alohilaniresort.com. Do not call Alohilani because you will be routed to their mainland call center who will not be able to make changes to group rates. Emailing will put you directly in touch with the local reservations team.  If Alohilani is unable to resolve, please contact us at wcpsc@naruc.org for assistance.
If you are not a commissioner or commission staff and booked at the $199 commissioner rate instead of the $279 conference attendee rate, we would appreciate you contacting Alohilani to modify your reservation so that our WCPSC commissioners may receive our limited subsidy.
The conference rate may only be used for stays between Sunday, May 30 and Tuesday, June 14.  If you are planning to stay before or after the room block window, we recommend you make a separate booking for those dates. If you do not make a separate booking for dates outside the window, you will be charged at the hotel's regular rates instead of the conference rate for your entire stay.
Book by May 9, 2022 to take advantage of special discounted conference rates. After May 9, the hotel may continue to accept reservations at the conference rate at its discretion. We encourage to continue booking with the code and let us know if you run into issues.
The discounted conference rate includes generous resort amenities.  Please note that although the resort fee of $48/night is waived, other fees like parking and taxes are not included in the daily rate.
After registering for the conference, you will receive a registration confirmation email with a link to access the hotel reservation system or a reservation code dedicated for the 2022 WCPSC AEC.
More information about parking fees, COVID-19 policies, resort amenities and other lodging questions is available on Alohilani Resort's FAQs.
Transportation
Honolulu is serviced by the Daniel K. Inouye International Airport. Transportation between the airport and hotel is not provided. Airport shuttles, taxis, ridesharing services and public transportation are available from the airport.
You will not need to arrange your own transportation to attend conference activities. 
Parking
Validated daily parking rates for conference attendees are $10 for self-park or $15 for valet. Overnight parking rates are discounted to $40/night (an $8 savings) if you booked your stay with our hotel conference code.
There are two entrance to self-parking. One entrance is located on Liliʻuokalani Avenue, just past the valet foyer, and the other is on Kuhio Avenue.
Airline Discounts
The WCPSC is pleased to partner with United Airlines and Hawaiian Airlines to offer special discounts for conference attendees and their guests.
Save up to 10% off flights on United Airlines for travel between May 31 through June 14, 2022.
Book now at: https://united.com/meetingtravel
Use Promotional Code: ZKDD818192
Save 5% off flights on Hawaiian Airlines.
Book now at: https://www.hawaiianairlines.com/affiliate?affcode=WCONFPSC
Use Affiliate Code: WCONFPSC
Dress Code
The local business attire in Hawaii is "aloha wear," which is Hawaii's version of business casual. It is not customary to wear suit and tie in Hawaii due to the temperate tropical climate so please feel free to wear aloha wear or standard business casual attire. Conference rooms will be air-conditioned so you may want to bring a light jacket.
For men, aloha attire means a short sleeve printed aloha shirt (printed Hawaiian shirt) with slacks. For women, the same or dresses, skirts and blouses in tropical prints.  See photo below for an example.
For the Tuesday luau, we encourage you to wear casual aloha wear. This means a more relaxed version of your business aloha wear. Brighter colors and prints, untucked shirts, open-toe sandals, sneakers, jeans, and shorts are all ok. The luau will be outdoors and may require walking in unpaved grassy areas. You may want to wear flat comfortable shoes. Although it's unlikely to rain in June, the luau is held rain or shine.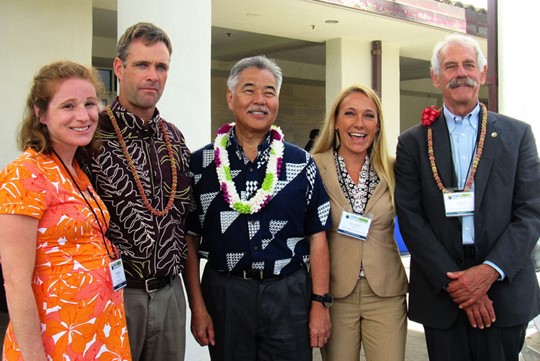 Aloha attire example. L to R: Abigail Anthony, Rhode Island PUC; James Griffin, Chair of the Hawaii PUC; Hawaii Governor David Ige; Jennie Potter, Hawaii PUC; Michael Picker, President of the California PUC at the 2019 Hawaii Energy Conference.
Conference Activities
The 2022 WCPSC will host two official activities: a Sunday Welcome Cocktail Reception and a Tuesday Luau program. You are free to check out additional special offers on things to do on Oahu on your free time.
Welcome Cocktail Reception
WCPSC President Potter, her fellow WCPSC leadership and Hawaii Commissioners welcome you to a cocktail hour at Alohilani's award-winning pool deck with a view of the ocean.
Location: Alohilani Hotel's Swell Pool Deck
Time: 5:30-6:30 p.m.
Pricing includes drinks and Hawaiian pupus
Free with attendee registration
$49 – Adult guests*
*Reception is only open to guests 21 year and older.
Note: Registration desk will open one hour prior to the reception
Luau
A luau is a traditional Hawaiian feast. Join us for an exciting evening under the stars as we voyage across ka moana ("the ocean" in Hawaiian) and through Polynesia with dances and chants. Pre-dinner show interactive activities include hula lessons, headband weaving, coconut tree climbing demonstration and more.
Limited to the first 250 attendees so be sure to register for the conference to secure your spot.
Venue:  Ka Moana Luau
Location: Sea Life Park Hawaii, 41-202 Kalanianaole Hwy, Waimanalo Beach, HI 96795
Pricing includes transportation, taxes and gratuities
 Free with attendee registration
$174 – Adult guests 18+
$154 – Youth guests 13-17 years
$134 – Child guests 4-12 years
$0 – Lap child 0-3 years, free w/ adult guest
Mask Requirement: Please bring your own mask. Masks are required to go through the self-serve buffet line, but may be taken off for other portions of the program and dinner.
Schedule:
3:45pm Board buses at Alohilani Hotel
4:00pm Buses depart hotel
4:45pm Arrive at Sea Life Park, check-in and pre-show entertainment
5:30-7:45 Luau Program
8:00pm Buses depart luau
8:45pm Buses arrive at Alohilani Hotel
Guest Registration and Payment
Guest Registration Tips
You must use a different registration email for each guest.
Do not use Discover credit cards.
How to Make a Guest Payment
If you are using the same payment method to pay for both your conference registration and guest fees, you may add your guests, complete your registration, and pay in a single transaction.
However, if you want to pay for guest activities on a different payment method than your registration, you will need to conduct two transactions. Directions are as follows:
Complete your attendee registration without any guests and pay using your work credit card.
After completing your registration, click the "modify or edit registration" button link on your confirmation page or email. From there, you may add guest registrations.
Complete your modified registration with the added  guests and pay using your personal credit card.
Should you have questions, contact wcpsc@naruc.org