Navigation
Registration Deadline, Fees, Transfers & Cancellation Policies
Registration Fees

Deadline to Register
Deadline to register online is May 31, 2022. After this date, registrations must be processed on site. No emails or online registrations will be accepted after this date. Please email gina.a.yi@hawaii.gov for more information.
Substitutions
Substitutions are allowed by individuals within the same institution/company at any time. Please contact gina.a.yi@hawaii.gov with the substitution request.
Cancellations
In the case of an emergency where neither registrant nor a substitute can attend, a cancellation must be submitted via email to gina.a.yi@hawaii.gov.
Refunds are subject to fees as stated below.

COVID-19 Protocols
As of March 26, 2022, domestic travelers to Hawaii will no longer be required to submit proof of vaccination or a pre-travel test to be exempt from a quarantine period. However, passengers arriving to Hawaii on direct international flights must still adhere to federal US entry requirements, which include showing proof of an up-to-date vaccination document and negative pre-travel COVID-19 test result taken within one day of travel. COVID-19 policies and protocols are subject to change without notice, so please confirm before you travel.
Lodging
The 2022 WCPSC Annual Education Conference will be held at the award-winning Alohilani Resort Waikiki Beach. This modern oasis is Hawaii's first carbon-neutral hotel and pays homage to Hawaii's rich cultural heritage. Special negotiated rates for conference attendees are available until May 9, 2022 or until fully filled.
After registering for the conference, you will receive a registration confirmation email with a link to access the hotel reservation system or a reservation code dedicated for the 2022 WCPSC AEC.
Daily discounted rates range from $199 to $279 per night and include generous resort amenities.  Please note that although the resort fee of $48/night is included in the daily rate, other fees like parking and taxes are not included in the daily rate.
More information about parking fees, COVID-19 policies, resort amenities and other lodging questions is available on Alohilani Resort's FAQs.
Transportation
Honolulu is serviced by the Daniel K. Inouye International Airport. Transportation between the airport and hotel is not provided. Airport shuttles, taxis, ridesharing services and public transportation are available from the airport.
You will not need to arrange your own transportation to attend conference events. 
Airline Discounts
The WCPSC is pleased to partner with United Airlines and Hawaiian Airlines to offer special discounts for conference attendees and their guests.
Save up to 10% off flights on United Airlines for travel between May 31 through June 14, 2022.
Book now at: https://united.com/meetingtravel
Use Promotional Code: ZKDD818192
Save 5% off flights on Hawaiian Airlines.
Book now at: https://www.hawaiianairlines.com/affiliate?affcode=WCONFPSC
Use Affiliate Code: WCONFPSC
Dress Code
The local business attire in Hawaii is "aloha wear," which is Hawaii's version of business casual. It is not customary to wear suit and tie in Hawaii due to the temperate tropical climate so please feel free to wear aloha wear or standard business casual attire. Conference rooms will be air-conditioned so you may want to bring a light jacket.
For men, aloha attire means a short sleeve printed aloha shirt (printed Hawaiian shirt) with slacks. For women, the same or dresses, skirts and blouses in tropical prints.  See photo below.
For the Tuesday luau, we encourage you to wear casual aloha wear. This means a more relaxed version of your business aloha wear. Brighter colors and prints, untucked shirts, open-toe sandals, sneakers, jeans, and shorts are all ok. The luau will be outdoors and may require walking in unpaved grassy areas. You may want to wear flat comfortable shoes. Although it's unlikely to rain in June, the luau is held rain or shine.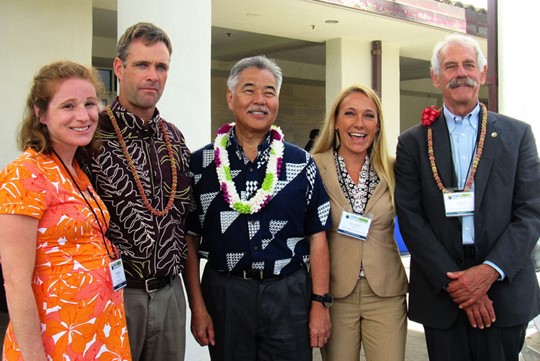 Conference Activities
The 2022 WCPSC will host two official activities: a Sunday Welcome Cocktail Reception and a Tuesday Luau program. You are free to check out additional special offers on things to do on Oahu on your free time.
Welcome Cocktail Reception
WCPSC President Potter, her fellow WCPSC leadership and Hawaii Commissioners welcome you to a cocktail hour at Alohilani's award-winning pool deck with a view of the ocean.
Location: Alohilani Hotel's Swell Pool Deck
Time: 5:30-6:30 p.m.
Pricing includes drinks and Hawaiian pupus
Free with attendee registration
$49 – Adult guests*
*Reception is only open to guests 21 year and older.
Note: Registration desk will open one hour prior to the reception
Luau
A luau is a traditional Hawaiian feast. Join us for an exciting evening under the stars as we voyage across ka moana ("the ocean" in Hawaiian) and through Polynesia with dances and chants. Pre-dinner show interactive activities include hula lessons, headband weaving, coconut tree climbing demonstration and more.
Limited to the first 250 attendees so be sure to register for the conference to secure your spot.
Venue:  Ka Moana Luau
Location: Sea Life Park Hawaii, 41-202 Kalanianaole Hwy, Waimanalo Beach, HI 96795
Pricing includes transportation, taxes and gratuities
 Free with attendee registration
$174 – Adult guests 18+
$154 – Youth guests 13-17 years
$134 – Child guests 4-12 years
$0 – Lap child 0-3 years, free w/ adult guest
Schedule:
3:45pm Board buses at Alohilani Hotel
4:00pm Buses depart hotel
4:45pm Arrive at Sea Life Park, check-in and pre-show entertainment
5:30-7:45 Luau Program
8:00pm Buses depart luau
8:45pm Buses arrive at Alohilani Hotel